Like every year, we had organised Summer Jamboree, this year it had to be online but no less enthralling. The programme included several stimulating experiences such as a Film Appreciation Club, Book Reading Circle, Chess Skills, Story and art sessions, Latin Jazz as well as method theatre through Play a Tale. The details of the programmes are as follows. We had participation from over 100 children about 40% of which were outside of Prakriti. The parents and learners have provided glowing feedback to the quality of the programme that we would like to share. 
Anek Ramayan

:

In this 10 hour Online workshop, our eminent storyteller Ms. Jaishree Sethi, shared folk stories culled from different Ramayanas existing across India, She also taught new words from different languages like Marathi, Hindi, Bengali through these stories, while our reputed artist-Shri Ramlal Bhatt, made intriguing regional crafts themed on Ramayana. It was a lesson to learn new words, new stories and crafts; and yet go back and learn an age old

culture.
Film Appreciation : We watched 8 movies before our online meetings. We met in a small group of at most 15 students for 60 minutes, 8 times over a month, for young learners to express their expressions and learning. We watched Arrietty, The Lorax, Blue Umbrella, My Name is Kalam, The Little Prince, Free Willy and Kiki's Delivery Service. Naveen Vasudevan, a cultural enthusiast and an Auroville resident conducted the workshop and engaged children in an open and fearless dialogue.
Prakriti Book Club

: We read the two books online with Ms Meenakshi Puri,  English language facilitator (ex Sardar Patel Vidyalaya) and a litterateur. In this book reading circle of 4 weeks, the facilitator traversed with young learners into the lives of the characters in these books and cultivated a life-long love for reading different genres. The members of the club read Look into my Eyes by Lauren Child and A Village by the Sea by Anita Desai. 
I Can…

: Prakriti Day Care team has curated a creative combination of

Non-Fire Cooking, Creating Crafts, Playful Workouts

for our young ones. Children enjoyed the fun of working independently with two activities each day.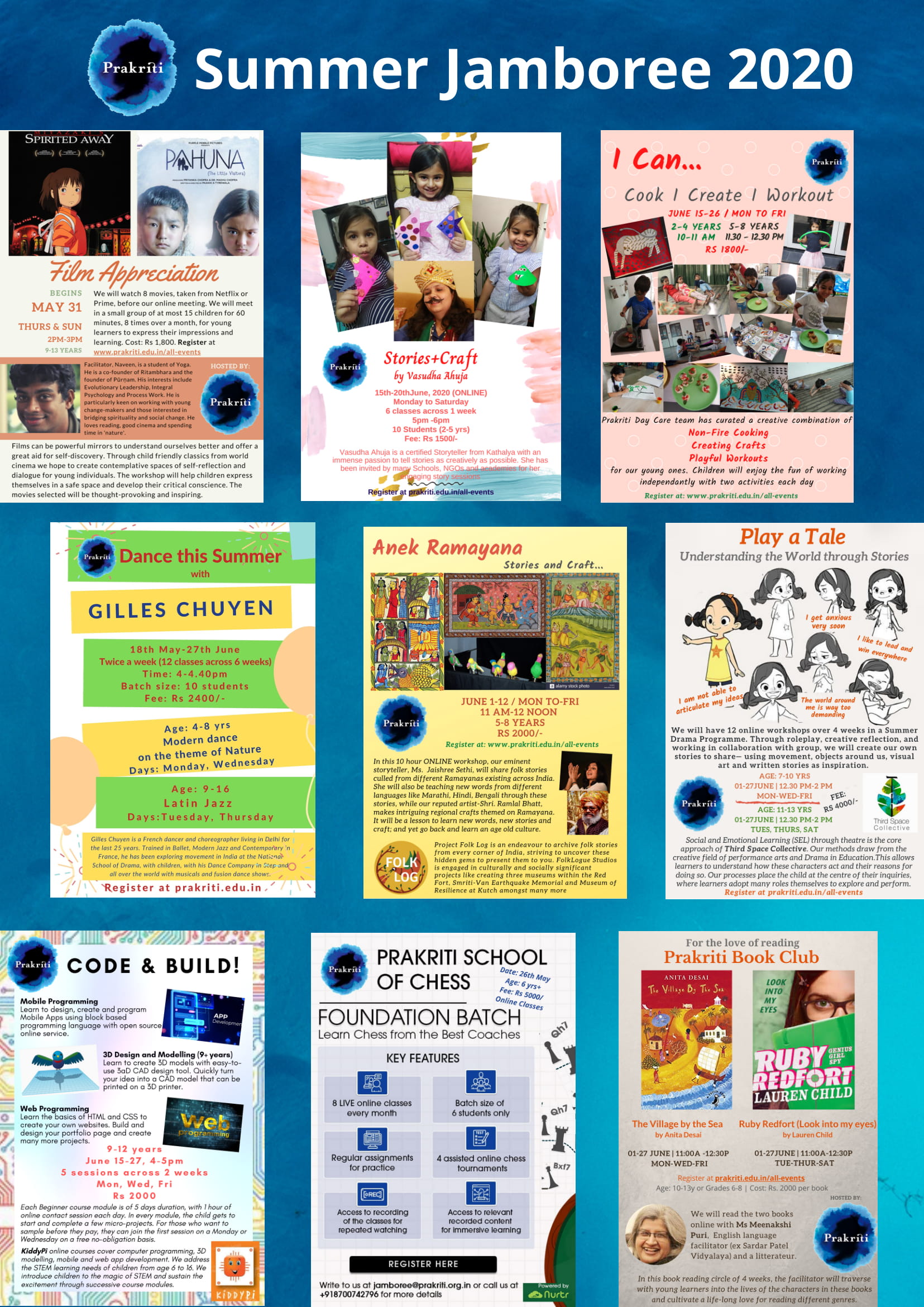 Play a tale

:

This role play/theatre workshop was organised by Prakriti

in collaboration with

Third Space Collective

. Our practices relied on *Social Emotional Learning (SEL)* and the *creative field of performance arts* to explore the intricacies of the world through drama with children of all ages, especially in trying times such as these. Our learners understands how to manage emotions, set and achieve positive goals, feel and show empathy for others, manage and establish positive relationships and make responsible decisions. The attribute to articulate well, will make their personalities shine as they grow up.
Prakriti Chess School

:

Strategic games require the players to use autonomous decision-making skills, while providing continuous stimulation to their brain cells. Indeed ! Exercising the brain is as imperative as exercising the body. We organised a Chess Foundation course of 8 classes and 4 tournaments, coached by International Masters

CRG Krishna

and

Mila Zarkovic

.
Dance in Summer

: Prakriti Team collaborated with

Gilles Chuyen

, french dancer and choreographer for 12 classes across 6 weeks to train learners in

Modern Dance

on the theme of Nature and

Latin Jazz. To make the class exciting for the learners, it began with gentle warm-up exercises and body isolation followed by the choreography. Dancers wanted to move freely and naturally, so they set themselves free from pointy shoes and grasp the floor with bare feet. Dance gave expression to their inner feelings. How beautiful indeed!
Stories and Crafts

:

Prakriti has been organising reading picnics with purposeful stories that fuel imagination and build connections with nature. This summer, for our young children, we had come up with a

Stories + Craft

workshop. The focus was five elements of Earth, Water, Fire, Earth and Air. We aimed to appeal to the senses of the children around these elements, by shaping ideas. With an eminent storyteller Vasudha Ahuja – a certified storyteller from Kathala, this was a  highly enriching experience for all our participants. Vasudha Didi takes our little bundles of joy into a world of imagination and engages them with art, craft and new learnings.
Code and Build

:

O

ur young learners enjoyed the coding and building  sessions. Learners were introduced to Mobile Programming, 3D Design and Modelling and Web Programming. In each module learners started and completed micro projects like Paint your photo app, Mole mash app to name a few.
Aayansh's aquarium ??thank you for the activity
Inara loved the salad. Ate it too. Made a tomato free version for her cousin. She loved it too.
Ivaan helping Mishka with the exercises today ?
Netra loved it and so did the entire family.
Zoya had an awesome time making these absolutely yummy cucumber boats ????. She loved eating these too!
Tvisha-Very interesting activity. Thank you?
Netra's aquarium ,she loved it and tried to cut and make her own fish
Anayh's aquarium?very interesting activity, Anayh had fun?
"Very interesting storytelling sessions. Wish I could take a break from office work and enjoy these!"
"Some very lovely Hanuman drawings seen here. children can do such caricatures in no time when they are enthused."
"I must say the story telling is super. Kids are totally engrossed (and let me add sheepishly as am I on the side)!"
"Dhun's story from Ramayan. These sessions were a great hit. Dhun thoroughly enjoyed the sessions both stories n puppet making. Can these not be extended till holidays last"
Thank you for taking the children on this experiential journey of movies. Vihaan loved every session.
Thank you for the wonderful classes Naveen.
It was a great concept and Navya has been enjoying every session. In fact, she always looked forward to the session. Thank you for engaging children in such an innovative way.
Thanku Naveen Sir for teaching children how to watch movies with a new perspective